Everyone can appreciate antique design, especially as you get  older. Antique foosball tables are not usually made for hardcore players, but they nail the visual aspect. They often have curved legs, wooden or golden details, carvings and elegant design. A table like that will naturally draw attention simply because of how unique it is.
It is also worth mentioning that not all models listed here all available on Amazon so I've added some to make the list a little bit more complete.
ANTIQUE FOOSBALL TABLE REVIEWS
Fat Cat Antique Foosball Tables
Fat Cat is the manufacturer than currently focuses on antique foosball tables the most. The highlight of their antique line is Queen series. Queen series is a series of antique foosball tables and it consists of 3 Fat Cat models – the Queen Victoria, the Queen Anne and the Contempo foosball table.
Queen Victoria Foosball Table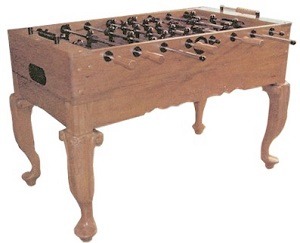 Made from solid oak, this antique foosball table lis incredibly sturdy. The highlight of this design are the legs of the table. The entire table is made from wood, it comes with counterbalanced men and 3-man goalie setup. Leg levelers and a proper ball return system are notable absences however.
Queen Anne Foosball Table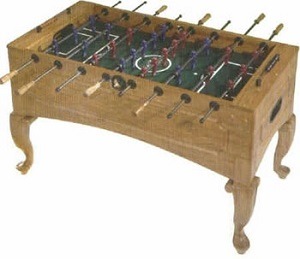 Another solid oak antique foosball table which is made after the Queen Victoria table, but with a special decoration across the cabinet. Solid oak won't let you doubt the durability or stability of the table. And just like with previous model, Queen Anne comes with counterbalanced men, but lacks leg levelers.
Contempo Foosball Table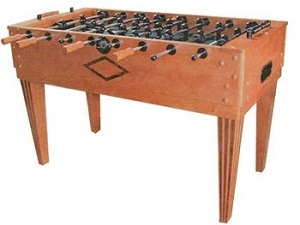 Not quite 'antique', but rather a retro style table.This table is made from maple woodand to look old, with decoration on the cabinet and wood carvings on the legs, which makes it look pretty nice. And you can choose between a single and 3 man goalie setup.
Bonzini Antique Foosball Tables
Now, what Bonzini manufactures is very different from previous models, but I decided to include them anyway.
Bonzini has its special style for foosball tables. Just take a look at the 2 drawer foosball table and the 12 drawer foosball table. Those two foosball tables could complement any living room.
2 Drawer Foosball Table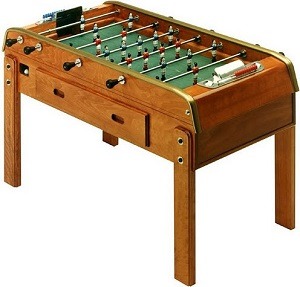 PROS
Hand-painted men
Sturdy & heavy cabinet
Side ball return
Safe for kids (telescopic rods)
Polished aluminum goals
CONS
No leg levelers
Not a tournament material
Small handles
12 Drawer Foosball Table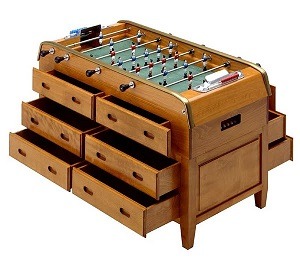 PROS
Hand-painted men
Sturdy & heavy
Beechwood cabinet
12 drawers
Telescopic rods
CONS
Small handles
Shipping
Assembling
Sportcraft Antique Foosball Tables
Another brand manufacturing antique foosball tables is Sportcraft. All 3 tables are wooden, decorated with many details and carvings and they really look like antique furniture – Oxford, AMF Coliseum and Stadium foosball tables.
Oxford Foosball Table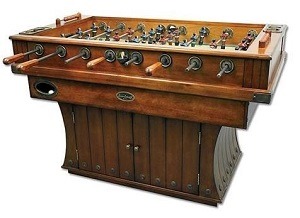 PROS
Hand carved foosball players
Storage cabinet under the table
Durable
Great design
Side ball returns
Metal drink holders
CONS
big dimensions – needs extra space
AMF Coliseum Foosball Table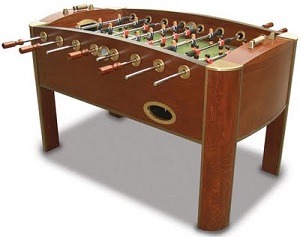 PROS
Great design
Entirely made from wood
Traditionally made players
Three men goalie
Counterbalanced men
CONS
Rounded feet on men
Slippery handles
Slow rods
Stadium Foosball Table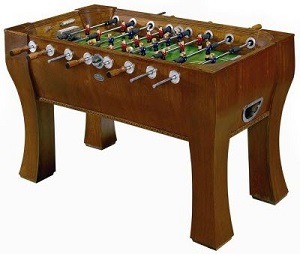 PROS
Solid and heavy table
Counterbalanced players
Good price
Great design
CONS
Solid rods
Players have rounded feet