Spartan Sports is a company based in Australia and they mainly produce football, rugby and cricket equipment. Hence their tables will suit casual players and kids.
SPARTAN SPORTS FOOSBALL TABLE REVIEWS
Spartan Sports 54″ Foosball Table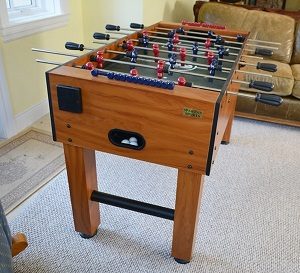 This Spartan Sports foosball table is fine in most regards. Not good, not special, just fine. It lacks some features that you would expect to see even in cheap models (proper handles or counterbalanced men), which is sad.
The overall quality of build is actually good, similar to American Legend Charger, like a tank 🙂 Table comes in two colors, cup holders, end ball return, leg levelers and other stuff not really important.
Overall, if you buy it cheap and you don't expect this table to be professional table in terms of quality – go for it, it's one of the better products in it's category, but not much else.
Pros  
Cheap
Easy to assemble
Leg levelers
Comes in two colors
Cons
Relatively poor quality
Quite casual table
Spartan Sports 50″ Foosball Table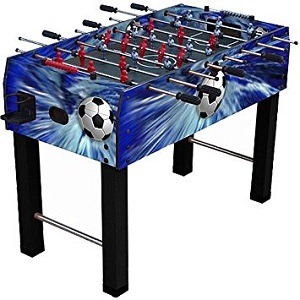 This table is also made from the MDF. It is actually pretty similar to the table above. It has square legs which are connected with 2 bars, just like the Spartan Sports 54'' foosball table. It will do for teens because of its color palette and overall design, but not much else.
Pros 
Cons
Relatively poor quality
Lacks some basic features
Spartan Sports 48″ Foosball Table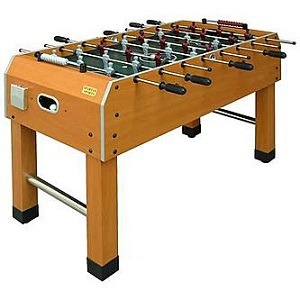 The table is made from the MDF, ok looks and nothing else. Handles are bad and no le levelers. The fact that it comes with 3-man goalie setup is a minor positive.
Pros 
Cheap
Relatively stable build
Cons
Lacks basic features
Nothing special about the table