TSA foosball table is almost impossible to find nowadays. I have played on TSA once druing my short time in the US and unfortunately I didn't see anything truly special about it. Well, except for the fact that it is incredibly solid table with some unexpected nice features that one wouldn't expect to have in a foosball table for casual players. I guess it kinda makes this table special in a sense 🙂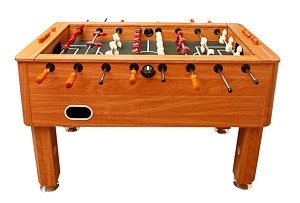 TSA foosball table is made from composite wood and it's build quality is very good. The design looks nice and I could easily see how this table would suit any living room. The handles, the construction and even score beans are all wooden. Additionally, this table comes with leg levelers and two steel pipes between the legs of the table. Four cup holders (and just overall  classy design) indicate that the table is mostly for casual use and not for tournaments.
Among the features that I didn't expect to see at all are the hollow steel rods, 3-man goalie setup, very nice wooden handles and conterbalanced players! I had to double-check it when writing the review, since I couldn't trust my memory on this, but yes –
all these features are present on the TSA foosball table. Huge props to the manufacturers!
Unfortunately,  nowadays it is almost impossible to find one of these, used or brand new, especially on Amazon. The common alternative I see often mentioned  is  Hathaway Primo table and it has enough positive reviews. I believe the rods are solid and not hollow, but you should still check them out.